TAG (400g)
Metabolic Nutrition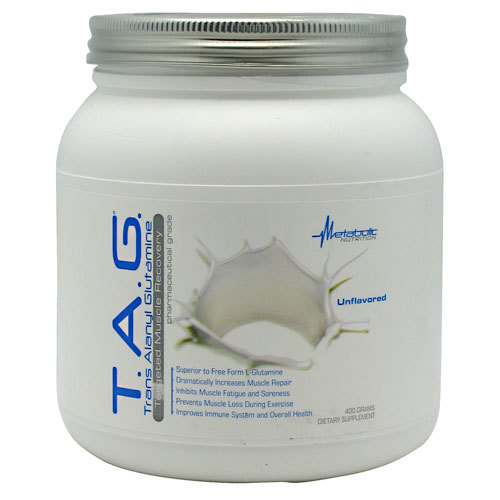 Price:
TAG by Metabolic Nutrition
Customer Reviews for TAG by Metabolic Nutrition
TAG Supplement Facts:
TAG Directions
Description:
TAG is ideal for any consumer who demands superior quality, uncompromising results, and is looking to improve overall health, increase muscle repair, and maximize physical enhancement….guaranteed!
Add extra muscle Fast and Easy without changing your training or diet!
Explode through training plateaus - Increase your strength in 1 hour!
Leave the gym - with muscles that stay pumped all day!
See results in your physique the very first week!!!
T.A.G. by Metabolic Nutrition is so powerful, it will start working the 1st day you use it! Your strength will skyrocket...your endurance will soar...your energy will be everlasting...so please don't train for endless hours thinking it will help build more muscle - after all its T.A.G. that works at building muscle...and as we all know, you build muscle when you are out of the gym by letting T.A.G. fuel your muscle tissue!
Dedicated to manufacturing high quality nutritional supplements backed by scientific research and formulated by a medical doctor, Metabolic Nutrition was the first to introduce Trans-Alanyl-Glutamine Di-peptide to the marketplace. Acclaimed by physicians, athletes and consumers alike, T.A.G. has the distinction of being the only "Muscle Targeted Glutamine" supplement in the market today. Due to its unique "di-peptide" designed chemical structure, T.A.G. is strong enough to be mixed in water or other beverages without any degradation which affects other glutamine products. Unlike Free-form L-Glutamine (which is mostly utilized in the intestines leaving as little as 10% for muscle tissue)…T.A.G. is far superior as it is 100% assimilated into the bloodstream, directly transported and infused deep into muscle tissue. Engineered for muscle repair, T.A.G. prevents the loss of muscle glutamine during exercise, preventing "protein" catabolism" (i.e. muscle loss)..therefore aiding in the maintenance and building of muscle intra and post workout. In addition to increasing recovery during and following exercise, T.A.G. also provides a complete recovery solution supporting the body's immune system, preventing muscle catabolism, increasing protein synthesis and growth hormone release; making it a critical supplement in any athlete's workout.
---
Directions:
Directions: Suggested Use on Training Days: As a dietary supplement, take 1 scoop with 8-10oz of cold water, juice, or protein shake, before and after workouts. Suggested Use on Non-Training Days: As a dietary supplement, take 1 scoop with 8-10oz of cold, water, juice, or protein shake, once per day.
Caution: Do not exceed recommended dose. Not intended for use by persons under the age of 18, those with a medical condition, or those with a history of kidney disease. Do not use if pregnant or lactating. If you are under the care of a physician, please consult your physician before using this product. Do not use if tamper resistant seal is broken. KEEP OUT OF THE REACH OF CHILDREN, STORE IN A COOL, DRY PLACE AND AVOID EXCESSIVE HEAT.
Brand Metabolic Nutrition
Supported Goal Build Muscle
Main Ingredient Glutamine
Customers who have purchased
TAG
also purchased:
Amino Acids
Glutamine
Pre & Post Workout
Post-Workout
Metabolic Nutrition