Buy
Supertein
and Save With Natural Body Inc.'s Everyday Low Pricing!
GAT Supertein
GAT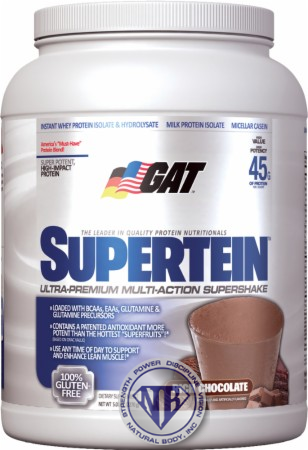 Price:
$54.95
GAT Supertein Product Information
Supertein is one of the best-tasting protein shakes you'll ever use. It's for getting lean and for building lean muscle.* Supertein is the perfect protein supplement to stack if your goal is to build lean muscle and lose fat along with diet and exercise.*
It's premium quality, with a powerful 45 grams of protein per scoop. Yet, Supertein is ultra-low fat, ultra-low carb and ultra-low sugar, too! Only 40mg cholesterol, and zero trans fats.
Plus, it's 100% stackable with thermogenics like GAT's premier Jetfuel and Pyro fat-burners. So, accelerate your results and get a whole-body nutritional experience, too. Try Supertein today!
---
Supplement Facts:
5 Lbs. Rich Chocolate
Serving Size 1 Scoop(40g)
Servings Per Container 56
Amount Per Serving % DV
Calories 160
Calories From Fat 25
Total Fat 3g 5%
Saturated Fat 1g 5%
Trans Fat 0g
Cholesterol 60mg 20%
Total Carbohydrates 11g 4%
Dietary Fiber 1g 4%
Sugars 3g **
Protein 22.5g 45%
Calcium 120mg 12%
Iron 0.3mg 2%
Phosphorus 120mg 12%
Sodium (As Sodium Chloride) 120mg 5%
Potassium 320mg 9%
Supertein Multi-Action Protein System™ 22,440mg **
Whey Protein Concentrate, Whey Protein Isolate, Partially Hydrolyzed Whey Protein, Micellar Casein, Milk Protein Isolate
Natural Digestion & Antioxidant Protection System™ 30mg **
Papain (Protein-Digesting Enzyme From Papaya Fruit), Capros® (Indian Gooseberry Extract Containing >60% Low-Molecular-Weight Hydrolysable Tannins)
Percent Daily Values (DV) based on a 2,000-Calorie Diet.
** DV not established.
Other Ingredients:
Maltodextrin, Sunflower Creamer (Sunflower Oil, Corn Syrup Solids, Sodium Caseinate, Mono- And Diglycerides, Dipotassium Phosphate, Tricalcium Phosphate, Soy Lecithin, Tocopherols), Cocoa Powder (Dutch Process), Taurine, Glycine, Natural And Artificial Flavors, L-Glutamine, Stabilizer Blend (Cellulose Gum, Xanthan Gum, Carrageenan), Lecithin, Acesulfame Potassium, Sucralose.
Contains: Milk, Soy. Produced In A Facility That Also Processes Egg, Peanuts, Wheat.
---
Directions For Supertein:
To Support Lean Muscle Size*: Prepare a delicious shake by blending 2 scoops of Supertein with 6-12 (177-354mL) of cold water, skim, or low fat milk: 1) First thing in the morning on an empty stomach, 2) Immediately after training, and 3) Before bedtime.
Make Yourself a Supertein Mega-Smoothie: Mix 1-2 scoops of Supertein in blender with crushed ice and lowfat milk (or water). Next, blend flax seeds, banana, strawberries and other fresh fruits.
Warnings: Use Supertein as a dietary supplement only. Consult with your medical doctor before using with a weight-loss diet. As delicious as Supertein tastes, do not use it as your only source of calories
GAT Supertein Product Guide
Customers who have purchased
GAT Supertein
also purchased:
Supertein Reviews:
Supertein Directions: