Oral E-MAX (100 tablets)
Empire Global Nutraceuticals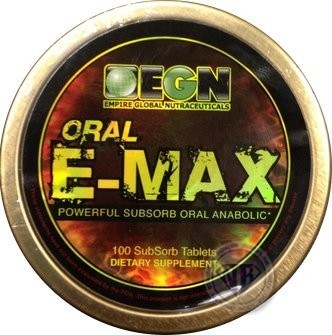 Price:
Oral E-MAX by Empire Global Nutraceuticals
Customer Reviews for Oral E-MAX by Empire Global Nutraceuticals
Oral E-MAX Supplement Facts:
Oral E-MAX Directions
One of the best epistane products ever made, easily dosed at 5mg per pill and 100 pills per bottle—the perfect cycle add-in.
Extreme Lean Mass & Strength Agent,
Anti-Estrogenic Hardening Compound.
Extreme Myotropic/Anabolic Agent
Must-have compund to acheive a ripped physique
Exact same compound as IBE Epistane, CEL E-Stane -- in SubSorb (sublingual) form for better oral absorption
Sublingual Oral compound
100 tabs
2a,3a-epithio-17a-methyl-5a-androstan-17b-ol – 5 mg
Oral E-MAX is a compound that's not only extremely effective due to its very high anabolic score, but is also an extremely effective anti-estrogen that's been used safely for years in Japan.

Oral E-MAX is an extremely potent compound. It has about a 12-to-1 anabolic to androgenic ratio, which is very good.

As mentioned above Oral E-MAX is extremely safe as well. It has no reported progestational activity. Oral E-MAX has demonstrated anti-estrogenic effects in both rodent models and humans and was even used to treat breast cancer in women. It has been suggested as a means of treating gynecomastia. Users can experct dry, lean gains in muscle tissue and a potent strength increase.

Chew 2 tablets 2-3 times daily. Do not exceed 6 tablets a day. Do not exceed 6 weeks of continuous use.
Brand Empire Global Nutraceuticals
Supported Goal Build Muscle
Form Tablet
Servings Per Container 100
Serving Size 1 Tablet
Customers who have purchased
Oral E-MAX
also purchased:
Muscle Builders
Pro Hormone
Empire Global Nutraceuticals